The next congress will attract a targeted group of senior international decision makers and leading scientists. The participants and exhibitors will have a valuable, informative and positive experience. Vice presidents, Directors, Heads, clinicians, and research associate who are responsible for:

Pharmaceutical/Biotech Executives, World Leading Scientists, Academic Researchers, Hospital Clinicians and Practitioners who are responsible for:
★ Research & Discovery ★ Preclinical Development  ★ Screening Research  ★ Pharmaceutical Development  ★ Scientific Affairs Toxicology  ★ Product Development ★ Safety  ★ Technology  ★ Medicine Chemistry  ★ Genetics  ★ Medical Affairs ★ Traditional Therapies ★Natural Products

The Congress will be attracting senior strategic decision-makers with top-level speakers, interactive roundtables, knowledge-sharing panel sessions, in-depth workshops and superb networking.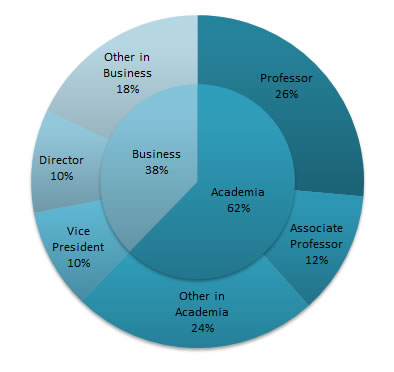 | | |
| --- | --- |
| Job Title | Organization |
| CEO | REPROCELL Europe Ltd. |
| Chief Marketing Officer | ReproCELL Group Companies |
| Executive Pharmaceutical Consultant | Chatham Biopharma Consulting, LLC. |
| Executive Director | Amgen Inc. |
| Executive Director | Astellas Pharma Global Development |
| Co-Founder and CEO | Recursion Pharmaceuticals |
| Executive Vice President and Chief Scientific Officer | Oncodesign |
| President and CEO | Enable Injections, LLC. |
| Vice President | Aptuit |
| President | MultiGEN Diagnostics |
| Chief Scientific Officer | Leadscope,?Inc. |
| Executive Director | Astellas Pharma |
| Vice President | GL PharmTech |
| Chief Executive Officer | Iproteos S.L. |
| President and CEO | Cyclenium Pharma Inc. |
| Chair  | Ulmer & Berne LLP |
| Founder and CSO | Illustris Pharmaceuticals, Inc. |
| Executive VP R&D | Alcediag |
| Chief Scientific Officer | Shionogi & Co., Ltd. |
| Vice President | Bristol-Myers Squibb |
| Senior Manager | Boehringer Ingelheim Pharma GmbH & Co. KG |
| Director | Mercachem |
| Group Leader | Sanofi |
| Director | Merck KGaA |
| Business Account Managers | Oncodesign |
| Global Head of Data Science | Roche Innovation Center New York |
| Associate Director & Group Leader | AbbVie Deutschland GmbH & Co. KG |
| Director | MultiGEN Diagnostics |
| Senior Consultant | ALA Biopharma Consulting |
| Director | ChemDiv, Inc. |
| Director | Pfizer Inc. |
| Director | Merck KGaA |
| Owner | MCMULLEN AB |
| Technology Director | Oncodesign |
| Associate Director | Mercachem |
| Director | Promega Corporation |
| Director | MedVenture Partners Inc. |
| Senior Principal Scientist | Fertin Pharma A/S |
| Director | Nowicky Pharma |
| Group Officer and President of BA-CFU | Eisai Co., Ltd. |
| Director | Medlab Clinical Pty Ltd. |
| Senior Research Scientist | Mitsubishi Tanabe Pharma Corporation |
| Professor | Pancasila University |
| Professor and Director | University of Johannesburg |
| Vice President | Dr. Sulaiman Al Habib Medical Group |
| Professor | University of Arkansas for Medical Sciences |
| Tenured Professor | Jules Verne University of Picardie |
| Professor | Helmholtz Centre for Infection Research |
| Research Professor | University of Arizona |
| Professor | Qingdao?University |
| Professor | Saarland University |
| Professor and Chief | The Chinese University of Hong Kong |
| Professor | National Tsing Hua University |
| Director of Stroke Center | Taichung?Veterans?General?Hospital |
| Professor | University of KwaZulu-Natal |
| Professor | University of Guelph |
| Professor | The Weizmann Institute of Science |
| Professor | ESPCI-ParisTech |
| Professor | University of Arkansas |
| Professor | University of Bergen |
| Professor | Stavropol State Medical University |
| Professor | CHU Angers |
| Vice Chancellor of Health Affairs and Chief Executive Officer of Health System | University of California, Irvine |
| Professor | Dom Bosco Catholic University |
| Professor | Aix Marseille University |
| Clinical Director and Lead Clinician | Creighton University |
| Director | Sarcoma Oncology Center/Cancer Center of Southern California |
| Professor | Kindai University |
| Professor | Masaryk University |
| Regents Professor | University of Arizona |
| Former Clinical Professor | Hsu's Andrology & National Taiwan University |
| Director | Yunlin Chang-Gung Memorial Hospital |
| Professor | University of Guanajuato |
| Executive Director | International Virotherapy Center |
| Professor | Zagreb University Hospital Center |
| Adjunct Professor | University of Iowa |
| Director | Kaiser Clínic & Day Hospital |
| Professor | Nara Institute of Science and Technology |
| Professor | Kobe University Graduate School of Medicine |
| Chairman | Korea?University?College?of?Medicine |
| Professor | Kurume University Graduate School of Medicine |
| Chief Physician | Asago Medical Center |
| Professor | China Medical University Hospital |
| Adjunct Professor | Drexel University College of Medicine |
| Clinical Director | Helios St. Elisabeth Hospital in Oberhausen |
| Professor | Colorado State University |
| Professor | National Taiwan University |
| Professor | University of California, San Diego |
| Director | Airlangga University |
| Dean of Engineering Faculty | University of Pavia |
| Director | Good HealthKeeping |
| Director | University Milano Bicocca |
| Professor | University of Brescia |
| Professor | Tata Memorial Centre |
| Professor Emeritus | Kyushu University |
| Professor | St. Marianna University School of Medicine |
| Director | ACT Health |
| Professor | University of Miami |
| Professor | Nagoya University |
| Professor | University of Johannesburg |
| Professor | University of Basel |
| Professor and Assistant Dean | University of Tennessee |
| Professor | University of New Mexico |
| Professor | Federal University of Santa Catarina |
| Director  | Institute?of?Computer?Vision?and?Applied?Computer?Sciences, IBaI |
| Professor | Ca' Foscari University |
| Professor | University of Chile |
| Director | University Hospital Centre Zagreb |
| Executive Medical Director | Charak Clinical Research Center |
| Distinguished Professor | West Virginia University |
| Professor | Tel Aviv University |
| Professor | King George Medical University |
| Chair | State University of New York Downstate Medical Center |
| Deputy Director | University of Free State |
| Professor | Leonard Vinci Institute |
| Director | SVKM's NMIMS University |
| Associate Dean | University of Warsaw |
| Professor | King George Medical University |
| Professor | Taras Shevchenko National University of Kyiv |
| Professor | Gadjah Mada University |
| Professor and Director | University of Southern California |
| Professor | Florida State University |
| Director | Getwell Hospital & Research Institute |
| Professor | Fukuoka University School of Medicine |
| Chair | Ghent University |
| Professor | McGill University |
| Professor | Fujita Health University |
| Chairman | St Mary's Hospital in Loudong, Yilan |
| Professor | University of Chile |
| Director | University Hospitals Geneva |
| Professor | Cliniques Universitaires Saint-Luc |
| Associate Dean | Chiang Mai University |
| Director | McGill University, Jewish General Hospital |
| Professor | The University of Chicago |
| Professor | Cardiff University |
| Distinguished Professor | National Cheng Kung University |
| Research Professor | Inje University |
| Director | The Chinese University of Hong Kong |
| Professor and Director | Kaohsiung Medical University Hospital |
| Founder | Private Clinic of  Dermatovenerology - DOST Svidnik |
| Professor and Associate Dean | Peking University Shenzhen Graduate School |
| Professor | University of Ulsan |